HAYWARD HANGARS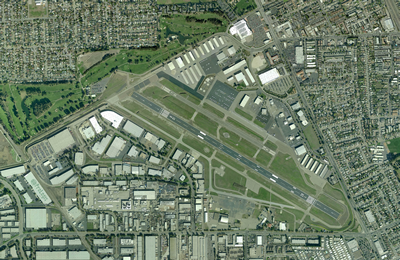 Hayward Hangars, LLC is developing a general aviation airplane hangar project in a prime location at Hayward Executive Airport (HWD). The project, which is scheduled to be available for occupancy later this year, will comprise 18 42' x 34' box hangars, six 50' x 40' box hangars, and six 50' x 50' box hangars. All hangars will have 16' clearance. Each hangar unit will have electric bi-fold doors, ample lighting, three-phase power, and Wi-Fi. The project will feature lavatories and parking for the exclusive use of our tenants. The project is within walking distance of Home Depot, the airport administration building, the La Quinta Inn, several restaurants, and a shopping center. Preview the Site Diagram Schematic.
HWD is one of the leading general aviation airports in the Bay Area. It is located 25 miles southeast of San Francisco, 26 miles north of San Jose, and 14 miles south of Oakland. HWD is a controlled field with a localizer system, and has two parallel runways, one of which is 5,694 feet long. The airport has a vendor of jet fuel and aviation gas, an aircraft wash rack, and several providers of aircraft maintenance services.
The management of Hayward Hangars has successfully operated a hangar project in Southern California for 14 years, and the design team and general contractor have considerable experience in the planning and construction of airplane hangars.
We are now accepting deposits on hangars. For more information, please feel free to contact us.
Get more information on Hayward Executive Airport.