Hayward Hangars in the News
InsideBayArea.com
New hangars going up at Hayward airport
It's tough for pilots to find a sheltered place to park their airplanes in the Bay Area, and a developer is adding to the stock of hangars available at the Hayward Executive Airport. Jim Altschul of Hayward Hangars said he first heard of the possible opportunity to pick up a ground lease at the airport in 2003…read more
Construction Under Way on Building B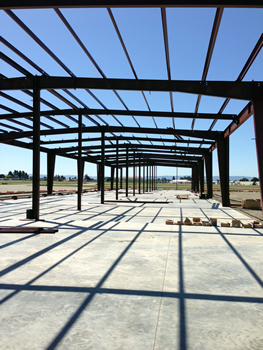 Hayward Hangars, LLC is pleased to announce that construction of Building B in our hangar development project is well under way. We currently expect that the 18 42' (wide) x 34' (deep) box hangar units in Building B will be available for occupancy in late June. All units will have electric bi-fold doors, 16' clearance, 60 amp power, and Wi-Fi. Tenants will have access to a private lavatory facility, towing services, and ample private parking. A new self-service avgas fueling station has just been completed and is only a few feet away.
We are offering one-year leases at $800 per month, with a month's free rent. Units may also be purchased. We can provide temporary storage in an 8000 square foot hangar on our site until the units in Building B are ready.
We plan to start construction of Building A, which will house 50' (wide) x 40' (deep) and 50' x 50' units, this summer, with a target date for completion by year-end.
Please feel free to contact Jim Altschul at (888) 617-0300 or jaltschul@aviationadvisory.net if you have any questions or would like to tour the site.