Hayward Hangars in the News
Tri-City Voice
To a backdrop of corporate jets, private propeller craft and helicopters taking off and landing, Hayward Hangers, LLC unveiled the first phase of its general aviation hangar project at Hayward Executive Airport...read more
Hangarsphere.com
New hangar project in Hayward California350
During my research, I stumbled upon a new hangar development at the Hayward Executive Airport (KHWD) located roughly between San Francisco and San Jose on the eastern shores of San Francisco Bay...read more
InsideBayArea.com
Hayward airport plans new administration building, other improved amenities
A new administration building at the busy Hayward airport will include larger waiting spaces and more areas to make it more attractive to the flying public...read more
New hangars going up at Hayward airport
It's tough for pilots to find a sheltered place to park their airplanes in the Bay Area, and a developer is adding to the stock of hangars available at the Hayward Executive Airport. Jim Altschul of Hayward Hangars said he first heard of the possible opportunity to pick up a ground lease at the airport in 2003…read more
Building B is Open!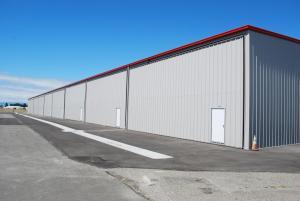 Hayward Hangars, LLC is pleased to announce that construction of Building B in our hangar development project has been completed.  The box hangar units, each of which is 42' (wide) x 34' (deep), are available for immediate occupancy.  All units have electric bi-fold doors, 16' clearance, three-phase 60 amp power, and fire sprinkler protection.  Tenants have access to a private lavatory facility, towing services, and ample private parking.
We are offering one-year leases at $1200 per month.  Units may also be purchased.
We plan to start construction of Building A, which will have  50' x 50', 50' (wide) x 40' (deep), and 44' (wide) x 40' (deep) box hangar units, next year.
Please feel free to contact Jim Altschul at (888) 617-0300 or jaltschul@aviationadvisory.net if you have any questions or would like to tour the site.